BONUS IRIS FOR EVERY 6 ORDERED or VALUE! (Added at shipping from available plants. We also attempt to match with your order. Suggestions welcome. Up to six as shipping weight is affected). Shipping from July to September based on your climate (AIS judges get 10% dicount, ask us how).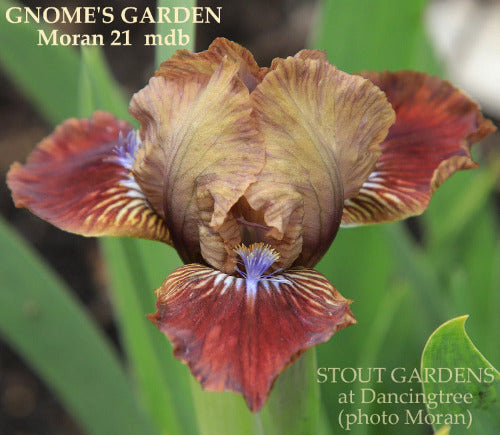 Iris Gnome's Garden
$ 14.00
We have run out of stock for this item.
(Anita Moran 2021)  MDB, 6" (15 cm), M. Rebloom

Unique shades of hazelnut and red violet tones with sharp blueish beards tipped yellow. Maryland.
S. Hazelnut with dark red violet base, SA. Light blue violet with golden olive crest, F. Hazelnut overlaid with dark coral white starburst at beard, yellow shoulder with dark chestnut veins. B. Blue violet tipped yellow.
Seedling 11B38Adl02: (Tasquer Seedling (B38A (Hot x What Again))) x Double Life  
IRIS SHIP JULY - SEPTEMBER DEPENDING ON YOUR REGION.