BONUS IRIS FOR EVERY 6 ORDERED or VALUE! (Added at shipping from available plants. We also attempt to match with your order. Suggestions welcome. Up to six as shipping weight is affected). Shipping from July to September based on your climate (AIS judges get 10% dicount, ask us how).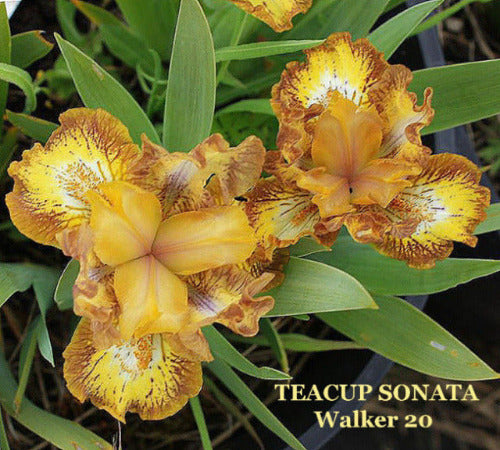 Iris Teacup Sonata
$ 12.00 $ 10.00
(Lee Walker 2021) MDB, 6.25" (16 cm), M.
Very flamboyant plicata pattern in honey, yellow, white and brown. Oregon.
S. cream yellow ground, white center, violet center line, honey brown edge; style arms mid gold; F. yellow ground, light yellow wash, honey brown veins on hafts and edge, light violet center veining; beards based light yellow with gold tips in throat, end based green with dark gold tips; slight sweet fragrance.
Sdlg. 01-88-4: Bright Child X unknown