BONUS IRIS FOR EVERY 6 ORDERED or VALUE! (Added at shipping from available plants. We also attempt to match with your order. Suggestions welcome. Up to six as shipping weight is affected). Shipping from July to September based on your climate (AIS judges get 10% dicount, ask us how).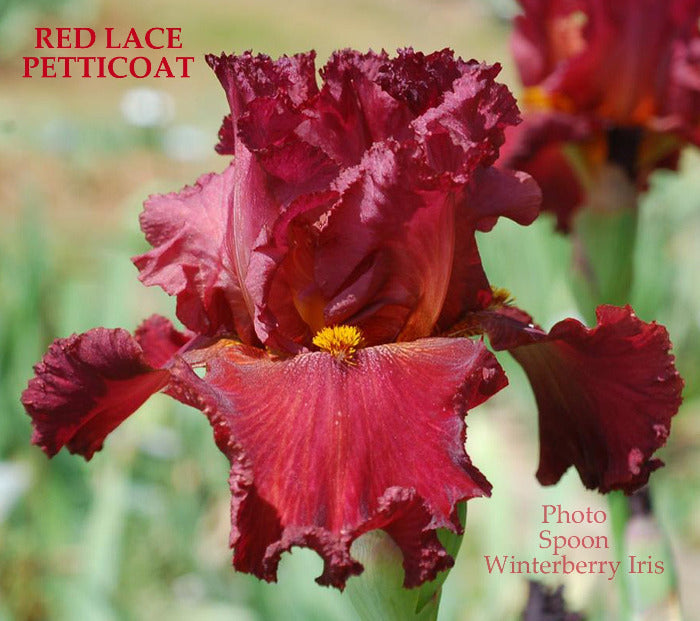 Iris Red Lace Petticoat
$ 9.00
(Donald Spoon 2015) TB, 40" (102 cm), ML-VL.
Outstanding red toned iris out of Virginia! Photo Spoon, limited quantity. Virginia
S. cardinal red and flag red blend, closed; style arms grey-red midribs, old gold edges; F. flag red centers, cardinal red edges, yellow hafts with grey-orange veins, undersides darker cardinal red, arched; beards orange deep in throat, cardinal with orange tips in middle, blend of orange and cardinal red at ends; ruffled and laced; pleasant sweet fragrance.
Sdlg. 2008-14RRD/LACED: 2005-30RD: (Rubies x 2003-189A: (Enchanted World x Pink Pink)) X 2005-308RRD: (Ritual x Voltaire's Cloak). 
IRIS SHIP JULY - SEPTEMBER DEPENDING ON YOUR REGION