BONUS IRIS FOR EVERY 6 ORDERED or VALUE! (Added at shipping from available plants. We also attempt to match with your order. Suggestions welcome. Up to six as shipping weight is affected). Shipping from July to September based on your climate (AIS judges get 10% dicount, ask us how).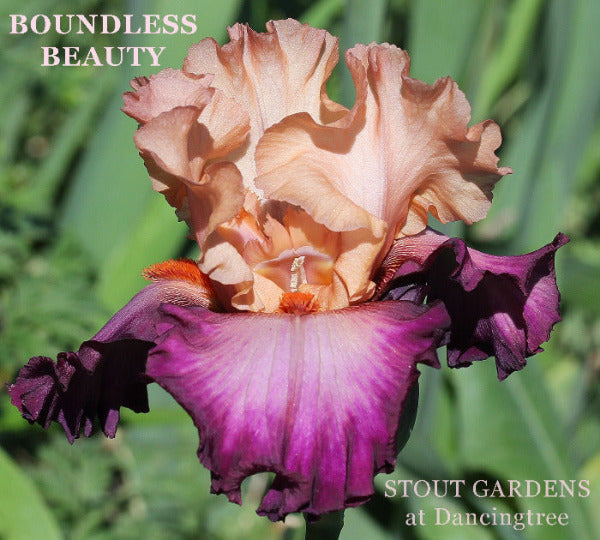 Iris Boundless Beauty
$ 14.00
We have run out of stock for this item.
(Richard Tasco 2019) TB, 37" (94 cm), Midseason bloom. HM 2022. 

Beautiful bi-color in coral pink over reddish purple with pale lavender centers. California.
Standards coral pink; style arms same, light violet blush along upper ridge sides; falls pale silvery lavender center, wide band of cyclamen purple, few purple veins along upper beard; beards burnt tangerine, several insignificant cyclamen purple hairs at end; slight fragrance; moderately ruffled; diamond dusted.
 Sdlg 13-TB-07-41: Sdlg 10-TB-56-03: (sdlg 08-TB-22-40: ('Gypsy Lord' x 'Bushwhacked') x sdlg 08-TB-05-23: ('Gypsy Lord' x 'Jazz Band')) X 'Engagement Ring'