BONUS IRIS FOR EVERY 6 ORDERED or VALUE! (Added at shipping from available plants. We also attempt to match with your order. Suggestions welcome. Up to six as shipping weight is affected). Shipping from July to September based on your climate (AIS judges get 10% dicount, ask us how).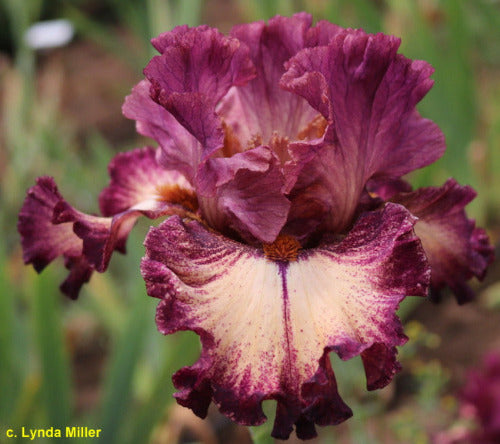 We have run out of stock for this item.
(Lynda Miller 2023) TB, 32" (81 cm), M.
Fantastic plicata pattern in deep maroon over apricot peach ground with dots toward burnt orange beards.9 to 10 buds on well branched stalks. Oregon.
S. maroon, slight apricot undertones in center; style arms dark apricot, trimmed maroon, laced; F. apricot-peach ground, dark maroon border and dotting into ground and midline; beards burnt dark orange; slight musky fragrance.
 Sdlg. 5217E: Powder Keg X 9813A, unknown.